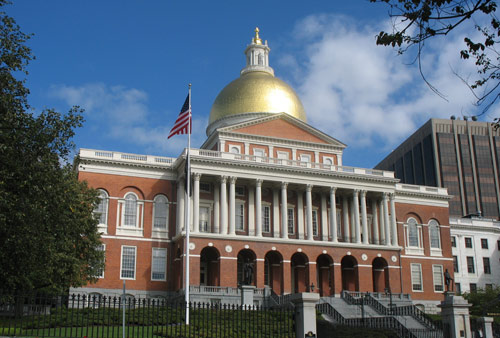 Massachusetts Medical Exemption Bill,
SB 784 An Act Relative to Rabies Vaccination for Dogs and Cats
is scheduled for a public hearing before the Joint Committee on Municipalities and Regional Government at the State House in Boston on July 14 in Hearing Room A2 at 10:00AM.
This act was
first proposed in April, 2009
. It seeks to clarify the language regarding rabies medical exemption for sick and senior pets in Massachusetts.
Public hearing is one of the final steps in the lawmaking process, but the outcome is never assured.
It ain't over until it's over as we learned in Texas in 2005 when we petitioned the Health and Human Services Committee reviewing rabies control ordinances and California now relative to AB 2000, "Molly's Bill." Strong opposition from unexpected quarters can easily derail even the best of laws. So it ain't over in Massachusetts.
How You Can Help
Please contact the Legislators on the Municipalities and Regional Government Committee (contact information below) and ask them to support Senate Bill #784 and ask everyone you know in Massachusetts to do the same.
Members of the Joint Committee on Municipalities and Regional Government:
http://www.mass.gov/legis/comm/j10.htm
Senator James Eldridge, Co-Chair James.Eldridge@state.ma.us Phone: (617) 722-1120 Fax: (617) 722-1089
Senator Patricia Jehlen, Vice-Chair Patricia.Jehlen@state.ma.us Phone: (617) 722-1578 Fax: (617) 722-1117
Senator Susan Fargo Susan.Fargo@state.ma.us Phone: (617) 722-1572
Senator Sonia Chang-Diaz Sonia.Chang-Diaz@state.ma.us Phone: (617) 722-1673
Senator Thomas Kennedy Thomas.P.Kennedy@state.ma.us Phone: (617) 722-1200 Fax: (617) 722-1116
Senator Richard Tisei Richard.Tisei@state.ma.us Phone: (617) 722-1206 Fax: (617) 722-1063
Representative Paul Donato Rep.PaulDonato@hou.state.ma.us Phone: (617) 722-2090 Fax: (617) 722-2848
Representative Joyce Spiliotis Rep.JoyceSpiliotis@hou.state.ma.us Phone: (617) 722-2430
Representative David Sullivan Rep.DavidSullivan@hou.state.ma.us Phone: (617) 722-2666 Fax: 617-722-2821
Representative Sean Curran Rep.SeanCurran@Hou.State.MA.US Phone: (617) 722-2263
Representative Angelo Puppolo Rep.AngeloPuppolo@Hou.State.MA.US Phone: (617) 722-2011 Fax: (617) 722-2238
Representative Pam Richardson Rep.PamRichardson@hou.state.ma.us Phone: (617) 722-2582 Fax: (617) 722-2879
Representative Katherine Clark Rep.KatherineClark@HOU.State.MA.US Phone: (617) 722-2220 Fax: (617) 722-2821
Representative Brian Ashe Rep.BrianAshe@hou.state.ma.us Phone: (617) 722-2090 Fax: (617) 722-2848
Representative Timothy Madden Rep.TimothyMadden@hou.state.ma.us Phone: (617) 722-2810 Fax: (617) 722-2846
Representative Jay Barrows Rep.FJayBarrows@hou.state.ma.us Phone: (617) 722-2488 Fax: (617) 722-2390
Representative Robert Hargraves Rep.RobertHargraves@hou.state.ma.us Phone (617) 722-2305 Fax: (617) 722-2598
PERMISSION IS GRANTED TO CROSS-POST
H/T: Kris L. Christine, The Rabies Challenge Fund